FROM: www.jubal.org
The origin of Jubal from Dordrecht starts in April 1911. During a party of the Christian boys' association (YMCA), the choir is once accompanied by some boys with whistles by experiment. It is a big success and so it is decided to continue with that music group. For 35 dutch guilders, instruments are purchased and after a year, Jubal is going to the street for the first time. Jubal steadily grows in the early years.
In the 20's a uniform was purchased to get its own identity and that worked because Jubal became a leading Tamboers and Pijperkorps. During the war all associations were on a low profile, but after the war, Jubal again flourished. In the 1950s, Jubal with 150 members walked in the street mainly Dordrecht and the surrounding area. With great success, Jubal was also asked to perform in other cities.
The sixties were marked by major changes. Not only the uniform was adjusted, but also the instruments underwent a complete change. The whistles that had been the face of Jubal for more than 50 years were largely replaced by trumpets, horns and baritons. The street performances were still done, but there was also a show. Jubal went to France and Belgium frequently in these years. At the end of the 1970s Jubal became acquainted with the Drumcorps phenomenon, and because Jubal has always been innovative, uniformors and instruments were adapted. The show performances got an increasingly important place in Jubal's activities.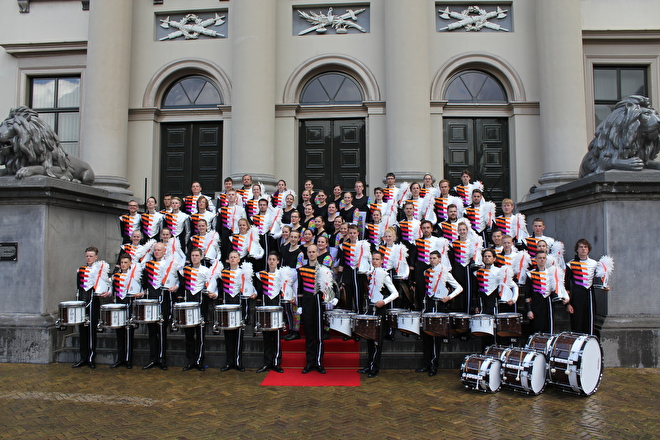 In 1982, Jubal joined Drumcorps Holland (DCH), and has since been 5x champion of the Netherlands. ('82, '86, '92, '93, '94.) In 1996 Jubal says farewell to DCH, but continues to participate in various matches. At the WMC in Kerkrade, each edition is once again won first places, and Jubal has reached first place many times first on competitions in Germany and England, for example. In 2002, Jubal decided to travel to the roots of drumcorps , the United States. In a three week tour, Jubal received a lot of admiration from the Americans. In 2003, Jubal became the first European champion in the league of Drum Corps Europe.
In 2006, Jubal also went to the United States for the second time in her history. With more than 100 men, a trip was made of three weeks, mainly through the east and middle of the United States. That year, Jubal and Jong Jubal won the Dutch and European Championships. For this we were especially honored by the mayor of Dordrecht. There were also posters throughout the city that made it known that the municipality of Dordrecht is proud of Jubal.
In 2005, 2007, 2008, 2010 in 2016, a trip was also made to Italy where Jubal was successful.
In 2011, Jubal celebrated its 100 years anniversary. Reunion, Photo Exhibition, Jubilee Book, Jubilee Tattoo with a performance of a 150-headed alumni corps and again a 3 week tour of the USA.
Jubal, despite his age, always kept up with time. The result is a modern drumcorps with young, enthusiastic members (average age 19/20). Every year Jubal participates in various competitions from various organizations such as DCE, DCN, WAMSB and WMC.
Number of active Members Jubal Drum & Bugle Corps: 70/80
Sections Jubal Drum & Bugle Corps:
Brass (winds group)
Field Percussion (Percussion)
Pit / front ensemble (melodic percussion group)
Colorguard (flags, saber, rifle and dance)
Drum Major (conductor + back field DM)
Highlights:
4 times tour United States
Several times European Champion (EMG / DCE)
Several times Dutch Champion (DMG / DCN / DCH)
Multiple times 1st prize WMC Kerkrade
Performances performed in: The Netherlands, Belgium, France, Germany, Switzerland, Italy, Norway, United Kingdom, United States.
Other activities:
Jubal Indoor Percussion
Jubal Indoor Winds
Jubal Winterguard
Theatershows
Christmas ensemble (Jubal X mas band)
clinics
openings